The BEST Mediterranean & Greek Food in Baltimore
In the mood for some chicken souvlaki, tender roasted lamb, or juicy Greek meatballs? Craving some fresh hummus, drenched in rich olive oil? Or maybe a fresh Greek salad garnished with feta cheese is more your style! You're in luck: the Baltimore area has some excellent choices when it comes to Mediterranean and Greek cuisine.
Our team members, friends and family shared their top choices for Mediterranean and Greek cuisine restaurants in Baltimore:
---
Photo courtesy of Baba's Mediterranean Kitchen
Located in the Riverside neighborhood of Baltimore, the award-winning Baba's Mediterranean Kitchen is sure to satisfy any cravings for Mediterranean food you might have. Baba's is founded on a strong family history, and they're happy to share their recipes—just take a look at the "recipe" section of their website.
The Menu: Baba's is all about classic Mediterranean fare. Find go-tos like falafel, kabobs, feta, hummus, salads, pita bread, desserts and more.
TIP: If you're gluten-free or vegetarian, good news: Baba's has plenty of options, and gluten-free and vegetarian menu items are all notated clearly on the menu.
Located at 745 E. Fort Avenue in Baltimore
---
Photos courtesy of Zorba's Bar & Grill Facebook page
Find fresh, generous helpings and perfectly grilled meat at Zorba's! The grilled octopus and lamb chops come highly recommended. You can view their entire menu here.
Located at 4710 Eastern AveBaltimore, MD
---
Photos courtesy of the Cava Mezze Facebook page
3. Cava Mezze: Breakfast, lunch & dinner
Cava Mezze is all about serving food that's "a modern take on traditional Greek recipes." Chefs especially recommend ordering the "hand-rolled Grape Leaves and Spankopita, tableside flambéed Saganaki, and braised Elysian Farm lamb shank," but you can find plenty of choose from on their extensive menu.
TIP: Cava Mezze serves up an AMAZING brunch. We included them in our "6 Best Brunch Restaurant in Baltimore" blog post for a reason!
Located at 1302 Fleet St, Baltimore, MD
4. Ouzo Bay: Trendy dining in Harbor East
Photos courtesy of Ouzo Bay Facebook's page
Nestled in the hot Harbor East neighborhood, Ouzo is the perfect choice for special nights out. Find an exquisite dinner menu, complete with an extensive wine list, mouthwatering desserts, and more.
Located at 1000 Lancaster St, Baltimore, MD 21202
---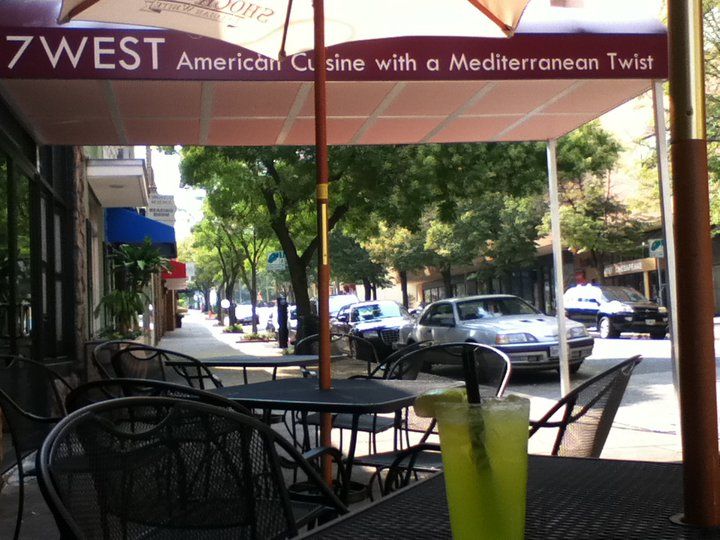 Photo courtesy of the 7 West Facebook page
Are you the only one in your family who LOVES Mediterranean food? Good news: 7 West Bistro in the heart of Towson serves a great variety of Mediterranean and Greek food, but for those who aren't a fan, they also serve plenty of other options as well. Find buffalo wings, chicken tenders, ribs, pastas, burgers, and more all in the mix.
TIP: 7 West has a fabulous happy hour (see the details here). For other great happy hours in Baltimore, check out 8 of our favorites here.
Located at 7 W Chesapeake Ave, Towson, MD 21204
---